Saturday, July 31, 2004
Isn't this camel cute?
Friday, July 30, 2004
I love that, I have my own room, because I can put this

bear

here and that doll there, that's great you know.
I feel my own room presents me. About my room, it is pink, It is small and nice, It is near my sister's room"najma" and that is a problem ;( except that it is comfortable.
I have a very big bed, I can move from the right side to the left side.
My first day, when I slept on my bed I fall on the ground more than once, Najma said : I heard

booom ..baaam ...Boom ...baam

:)
I cleaned my room today, and I found my copybook when I was in the examination days last month. When I saw it, I felt my heart broken into two peaces ..ah .. ah ...........thanks god it ended.
I love to pretty my own room with

bears

and the things that I love, because that give me back my memories and that give me good feeling.

you can also see when you look at my room' small desk, I have :

Stories

, history books,and poetry books there are Islamic books too.
I love read story, Islam and poem but the others, I don't .



the funny story to you

, when I sleep, my eyes are nearly open and that scares. When my aunts came to Mosul from Baghdad, they didn't accept to sleep with me in the same room :(
one day when I was sleepy my sister "Najma" told me

:

don't forget to close your eyes, ha ha ha ha ..That is not funny, is it ?? :) ........


Thursday, July 29, 2004
I am a girl, I am
15
years old ,I have 2 sisters,
Najma
is one of them , I have great father, he is a doctor and agreat mother, she is an engineer. we live in mosul a city in the north of Iraq .
My grandfather is a scientist and an enginreer proffessor, he and my grandmother and my cousins and my relatives lived in Baghdad, we travelled to see them every summer and we have a good time.
My big sister is married and I dont have a brother therefore I share most of my time with Najma(talk, fight, cook and laugh) she is realy funny, but we are different. I love what she hates, she loves what I hate. all my friends look to me as some one lucky to have a sister like her, and you certainly agree with them. In all my life I was the one in control, but suddenly !!!! oops, what happened ??????
:(
all the things went out of my control .
what happened ??? I dont know !!
I feel that I am special, I look to the life in a different view than you do, I love life, I love people, and I wish the best to my family and my friends.
The hero of my childhood
is my grand father. He is a wonderful man I cant describe him. I saw him last week and I missed him from now. I want to be like him .
Because I am the youngest in my family I look like (
cinderella
), thanks god for every thing ............
Wednesday, July 28, 2004
the same picture of the 'north of Iraq' that I have on my blog, ziad drew it using (paint) it is cool. ziad, it is cool , wow you are an artist ziad .thanks, thanks :))

Tuesday, July 27, 2004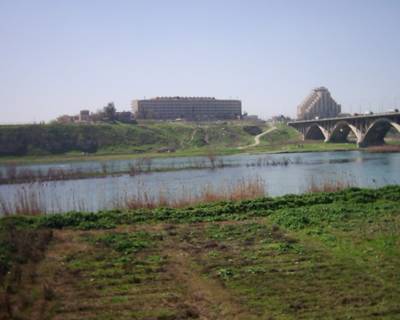 Tigris in the north of iraq , it is a great river in Iraq , it com from the mountains of Turkey in the north. the Tigris flow through Turky and Iraq, many tributaries flow into the Tigris inside Iraq. some of these tributaries are big , such as the upper Zab and the lower Zab . the Tigris meet the Euphrates south of Qurna and form one river . this is called the shatt-el-arab, which flows into the arab Gulf south of Fao.

Sunday, July 25, 2004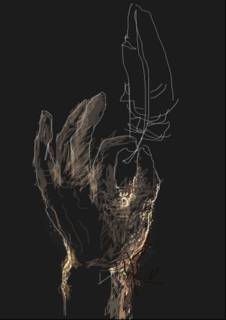 a picture from Emgire who drew this picture using photoshop ,it is a very nice picture ,I visited her blog( iraqblogcount.blogspot.com)and I enjoyed it .

Friday, July 16, 2004
In Mosul twelve Iraqi doctors decided to create a society (
Non Govermental Organization
) to take care of cancer patients, they call it Iraqi Society of Cancer Patients and their Friends (
ISCP friends
) , this society have dreams and purpose to :
- give help to the cancer patients to acheive the best possible life for them, and to rehablitate them for better quality of life.
- give help to hospitals and to cancer treatment centers to make them more able to give medical treatment to the cancer patients and to provide them with some appliances necessary to them.
-Publish papers and articles to educate the people and the patients and there families about cancer and the ways to prevent it.
-Early detection, treatment and paliative care in every possible way.
This society has just been formed and hasn't started its work yet. They are waiting to find an office.
Thursday, July 15, 2004
الفكرة هي انه اجري مسابقة للرسم ببرنامج الرسم الذي ينزل تلقائيا على الحاسبة واساس المسابقة ان يقوم كل مشترك برسم صورة ثم بعثها على عنواني البريدي على الهوتمبل الموجود والمدون في البلوك ومن بعد استلامه ساقوم ببعثه انا على البلوك ومن بعد ذلك سيقوم كل شخص يحب التصويت بالتصويت على اكثر اثنين يتوقع لهما الفوز ومن سيجمع اكثر عدد من معجبي الصورة سيعلن بانه هو الفائز.وساشارك انا شخصيا بالمسابقة


my idea is to do a drawing contest in program (paint) , and evry one will draw a picture and send it to my e-mail and then I will send it to my blog,and after that you will decide who is the best ( you choose the best 2 ) , and the player who has the highest score will win the game.
Monday, July 12, 2004
Yesterday we went to the north of Iraq, we waked up at 7 o'clock and we started to prepare ourselves to go .
Yahoo we started our journey, there is 80 km to pass and during the trip we saw wonderful places there were mountains, valleys, and lakes .
when we reached " Zaweta" we had our breakfast . After we finished our breakfast we went to " Swaratooka" then to " Sarsank" we took pictures and we had a good time after that we went to the supermarket and made shopping and had our lunch " it was delicious food " after all we had return back to our home at 4 o'clock .