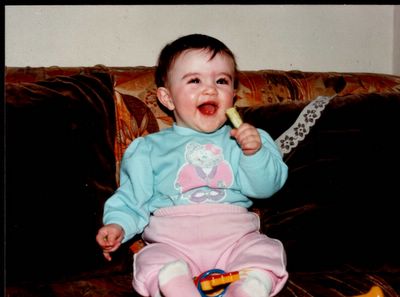 Hi all,
Thank you for your nice comment, I don't know what to say except thank you.
well, yesterday my uncle family and my sister family came to our house and we celebrate .
ME and my mother make a cake and other sweet and prepare sandwich for the dinner. My uncle's family gave me a watch. My sister gave me a T-shirt . And we took some pictures.
My friend came to my house in the same day of my birthday but unfortunately we were out of home. So I call her today and asked her to came any day she want. She told me that she will think of coming today. So I went and clean my room but at end she call and said I will not come today.
Aya was here today, she make me feel sick about what she she did. At end she is my niece and I should took care of her. She didn't walk yes, that's ok. I didn't walk till one year and two month old, while Najma walk in her 8 month old.
I saw that you like the picture ha???. So this is another one.

Readers who are interested:
like my new page on facebook :
IraqiGirl Diary
Contact me on :
hnk1989@gmail.com